60 Players for 60 Years: The Second Six
---
In celebration of the 60th anniversary of Brazil's first World Cup triumph in 1958, Canary and Blue is releasing "60 Players for 60 Years" – a tribute to the players, managers, and personalities who have most contributed to Brazil's collection of continental and global trophies. The final list will include ten figures from each decade since 1958, with special attention given to the way their contributions have influenced Brazilian footballing history. Each month in the lead-up to the 2018 World Cup will see the release of six players, one from each decade, with each decade's most influential player or personality being announced right before the start of this summer's tournament. This article is the release of the "second six." The first six and a full introduction to the series can be found here.
Over the course of the Seleção's history, they have been blessed with a host of talented attacking players. From graceful wingers, to playmakers capable of threading a devastating final ball, to quick and powerful strikers, Brazil have fielded many of the world's greatest ever forward-thinking footballers. Playing as a striker for Brazil brings the added pressure of knowing chances will come from the plethora of attacking players that surround you, and understanding that finishing those chances is often what separates winning the World Cup from being remembered as a great side that never lifted the trophy.
Very few selections in world football draw as much global scrutiny as the decision over who will play striker for Brazil, and often those decisions are plagued by last minute changes related to tactics, injuries, or even politics. As part of this month's edition of 60 Players for 60 Years, we have focused on those strikers whose inclusion (or exclusion) made a massive difference in the history of the Seleção.
A few of this edition's players featured for Brazil despite the manager's best efforts to keep them out, while several others faced injury or loss of form at crucial moments in Brazilian World Cup history. One player spent his entire career for Brazil chasing glory as second fiddle, and another was handed just a singular opportunity at a World Cup only when all seemed lost for the Seleção. None of strikers included as part of this collection was the top goalscorer during a World Cup, but all of them – whether through their presence at a World Cup or lack of it – played a massive role in the success or failure of Brazil during their respective decades.
1958-1968: The Roots of Dominance

With a win in the 1958 World Cup, Brazil captured their first world title, and buried the demons that had haunted them since their loss in 1950. 1958 was the beginning of a footballing arc that would run through 1970 and include three World Cup titles and would place Brazil at the top of the footballing world. The decade includes Brazil's only World Cup trophy on European soil, and wins at consecutive World Cups in 1958 and 1962 make the Seleção one of only two nations to have won back to back titles. For many fans of the canary and blue, this decade represents the golden years, where Brazil breezed past opponents playing football that was decades ahead of its time. Their training, tactics, management, and style were precursors for football. For most scholars, 1958 and 1962 mark the beginning of modern football.

Amarildo Tavares da Silveira, aka Amarildo, aka "O Possesso"
The concept of a "cult hero" is universal among supporters. Over the course of footballing history, many players have ascended to a level of outsized fanhood relative to their talent or contributions on the pitch. At the national team level, however, there is often little more than a success or failure categorization. If you said to yourself "who?!" after reading the name Amarildo, allow me to retroactively make a case for one of Brazil's first cult heroes, a man whose play for Botafogo and Brazil earned him the nickname, "The Possessed."
A lifelong underdog, Amarildo Tavares da Silveira nearly gave up on football to join the military at a young age, having been dismissed from Flamengo and told football was not in his future. It wasn't until defender Paulistinha convinced him to try out for Botafogo that he returned to the game that would eventually place his name in lights. Amarildo was part of the immortal 1960's Botafogo side which featured the likes of Didi, Garrincha, and Nilton Santos and won the Campeonato Carioca in 1961 and 1962. At Botafogo, Amarildo boasted a strong goal scoring record, netting 131 goals in 231 matches for the Lone Star between 1959 and 1963.
Thanks to Amarildo's connection with many of the key players in the 1962 World Cup squad, he was selected by Brazil manager Aymoré Moreira to join the Seleção in Chile. He had little intention of playing and was chosen to serve as Pele's backup. Only two matches into the tournament, however, he was called into action after Pele injured himself attempting a long range effort against Czechoslovakia.
Though devastated by the injury of their best player, the Seleção placed their faith in Amarildo, and he delivered. Positioned alongside club teammates Garrincha and Zagallo, Amarildo scored three goals in four matches and helped lead Brazil to World Cup glory. He scored two goals against Spain including a header on the back of a dazzling run and cross by Garrincha, but his defining moment came in Brazil's rematch against Czechoslovakia in the World Cup Final. With Brazil down a goal, he received the ball from a throw-in and shielded it from the first defender and cut to the by-line. From there, Amarildo would beat the keeper at the near post to draw Brazil level in the match. Goals from Zito and Vava in the second half would give Brazil their second World Cup triumph. In a now-iconic picture, one photographer caught Pele embracing Amarildo in celebration in the locker room after the match. Without their best player, Brazil had still found a way to lift the cup.
In 1963, Amarildo moved to Italy and played for Milan, Fiorentina, and Roma over the course of the next ten years. Despite not replicating the same goal scoring record he achieved for Botafogo, Amarildo would play for Milan's Copa Italia-winning side in 1967, and would lead the line for Fiorentina as they would win their second and most recent Serie A title in 1969. After a short stint with Vasco de Gama in 1974 he would retire from the game altogether.
O Possesso would return to the national consciousness in 2014 after an injury to Neymar in the quarterfinals of the World Cup meant Brazil's best player would miss the remainder of the tournament. As the entire country held its breath to see how the Seleção would fare without their talisman, many pundits and fans daydreamed of 1962, when Brazil required the most unlikely of heroes to lead them to the top of the footballing world.

-Sam McFarlane
1969-1978: The Rise of the Beautiful Game

Pre-1960's, South America was known for producing players with unquestionable individual skill, but by the late 1960's a more cooperative style of football was being introduced around the world, with Brazil at the forefront. Brazil reached their peak at the 1970 World Cup, and in the final against Italy in Mexico City, the world watched as the Seleção introduced the perfect blend of individual and team play. Their final goal is considered by many journalists the greatest in World Cup history. Nine Brazilians touch the ball in the build-up, making quick passes, but the goal is still set up by Clodoaldo dribbling four Italian players in his own half, before releasing the ball upfield. The ball finally made its way to Pele, who found a sprinting Carlos Alberto on the right wing to smash it home. This was peak Brazil. 1974 and 1978 were largely a let down for fans of the Seleção, but fans will ultimately remember the dominance of 1970, and the way it forever changed modern football.
Dr. Eduardo Goncalves de Andrade aka Tostão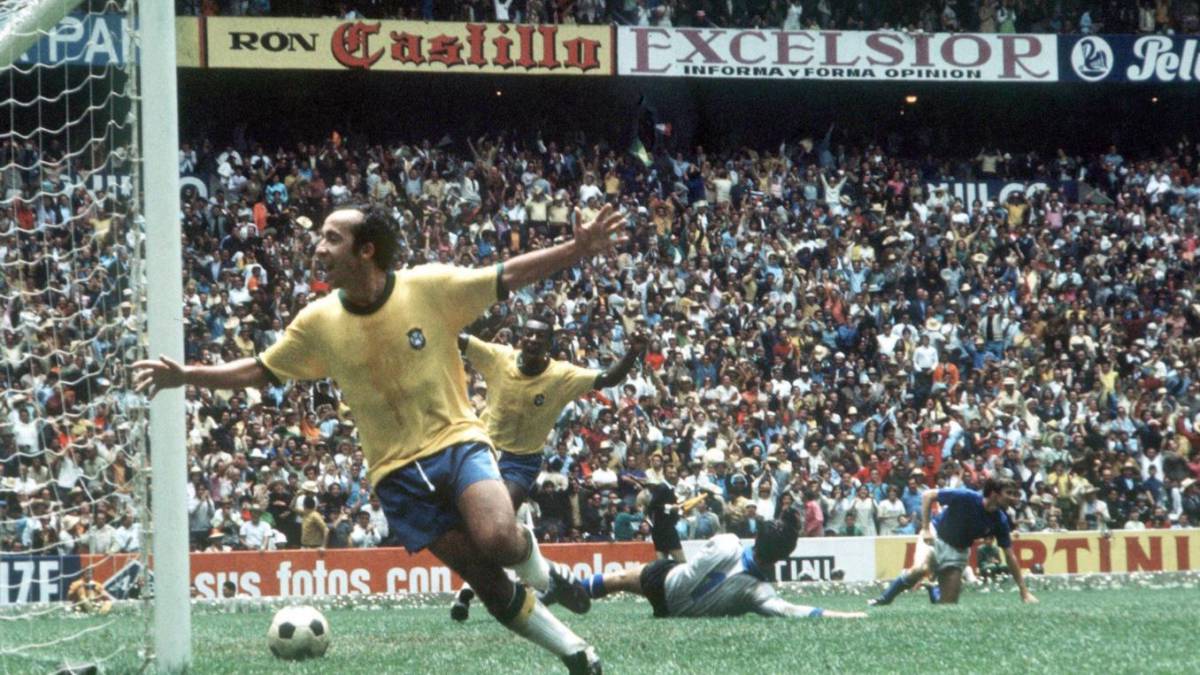 In hindsight, Tostão's place and role in Brazil's squad for the 1970 World Cup seems inevitable. After the win, after watching all of the Seleção's beautiful play, using Tostão as a fulcrum for Pele, Jairzhino, and Rivelino now seems obvious. However, Tostão was lucky just to be able to see, let alone play in the 1970 edition of the World Cup.

Tostão was never the most physically talented footballer. The smallest denominated Brazilian coin was called a tostão, and growing up, Eduardo Goncalves de Andrade was always the smallest player on the pitch, hence his nickname which roughly translates to "little coin." From the outset, Tostão had to make up for his physical deficiencies. In his memoir he elaborated on his development: "I had several shortcomings that I reduced over time, through hard work in training every day. I practically only used my left foot, I couldn't head the ball – I did so with my eyes shut – I was slow over medium and long distances. Moreover, my long-range shooting was poor, while my technical and physical limitations (and lack of pace) meant I couldn't keep up with my speed of thought. My mind rapidly told my body what it wanted it to do, but my body often didn't obey. Nevertheless, I was extremely self-critical, and I always believed I could make myself a better player."

Tostão's professional career started in the 1960's for Cruzeiro, and exploded in 1966 when Cruzeiro defeated Pele's Santos in the Brazilian Cup and Tostão was crowned, to his embarrassment, the "New King of Football." Tostão was called up to the national squad for the 1966 tournament but started only a single match. Going into 1969 and the run up to the 1970 World Cup, manager Saldanha made Tostão the number one striker ahead of Pele. However, Saldanha's support for Tostão was rumored to be motivated more by politics than tactics.

Tostão suffered a detached retina in his left eye in 1969 after being struck in the face by a clearance, and Saldanha proclaimed that he would stand by Tostão. Tostão calmly set about making himself fit and repairing his eye. In the middle of his self-imposed training exile, however, new manager Zagallo replaced Saldanha and in turn replaced Tostão.
Zagallo intended to use a traditional center forward with Pele, Rivelino, and Jairzhino. However, the forwards he had called up excelled at waiting for service but not coordinating build-up play with the other three attackers. During a training session in Mexico, Zagallo experimented and asked Tostão to play forward. Tostão had watched his three attacking partners and knew they needed a forward that brought movement, technique, and quick thinking. During the training session, the four clicked instantly and the rest is history. Tostão proved to be the brain and the technical player that his attacking partners needed.

Tostão is ever present in footage of the 1970 tournament. He's not scoring, but coming to the ball, making the perfect pass, playing a scintillating one-two. His moments are almost hard to notice – he lays off a ball for Rivelino or makes a slide rule pass to set up Jairzhino.
He looks an odd man out – he is smaller than Rivelino, he does not make lung busting runs like Jairzhino, score wonder goals like Rivelino, or possess the gracefully brutal power of Pele. Rather, he makes a quick pass, takes a few touches and finds a teammate, he creates. He is cerebral and seems to know where all of his teammates are – as though he could be blindfolded and still tell you where everyone is.
Tostão's moment of the tournament came against England. He received the ball at the top of the box, dribbled several English defenders before playing a cross to Pele while falling over. It was a moment of technical genius and sublime passing that set up the winning goal for Brazil.
Football is a footnote for Tostão. He was determined to become a great player, and he did so by becoming an essential component in one of the most fearsome attacks in World Cup history. Within a few years of 1970 Tostão retired from football, due to concerns over his eye injury. Rather than fading away, he became a medical doctor. In 1994 he returned to football when he worked as a correspondent for FIFA and began writing a weekly newspaper column.

-Sean Makarin
1979-1988: The Pain of Expectation

Filled with promise, 1979-1988 would bring disappointment to fans of the Brazilian national team. The 1982 World Cup team featured many of the greatest players in modern footballing history, with Zico, Socrates, Falcão, and Cerezo all playing for the Seleção. Brazil played beautiful football throughout the tournament, but in a match which has since been dubbed the Tragedy of Sarria, the Seleção would lose in heartbreaking fashion to Italy. For many football fans, Brazil's loss to the Italian catenaccio would come to define the "death of naivety in football," as the more pragmatic Italians advanced past the attractive style employed by the canary and blue. During 1986, a less inventive Brazil would advance to the quarterfinals, losing to France in penalties with Socrates missing one of the crucial spot kicks. The 1980's are one of only two decades since 1958 where Brazil have failed to win a World Cup. Despite their lack of silverware, their commitment to joga bonito left a tremendous impact of football fans who grew up during this decade.

1979-1988: Antônio de Oliveira Filho aka Careca
Careca was a key link in the evolution of the Brazilian striker, connecting the play of Tostão during the 1970's with the more fluid interpretation of the "Number 9" role employed by the likes of Romario and Ronaldo during the 1990's and 2000's. Careca had many of the qualities of a great striker –  fast, powerful, and with incredible skill on the ball. Often what separated Careca from his peers, however, was his incredible intelligence around the penalty area, and his understanding of those subtle movements that grant separation in front of goal.
The man who was named after a clown began his career at Guarani as a 17 year old. He helped the club win the Brasileiro in his first season on the payroll, an incredible feat for a teenager playing for a relatively unknown club 60 miles northwest of São Paulo. He scored thirteen goals during the campaign, including the championship deciding strike, and immediately gained notoriety as an up-and-coming talent. During a recent interview he would tell journalists that "I will never forget that final. Later, people expected my teams to win and me to score goals, but back then it was different. So to score the goal that won us the title, against a big team like Palmeiras, filled me with sheer joy. It's when everything started for me."
As he grew in popularity, Careca was desired by clubs across the country, and in 1982 São Paulo eventually signed him. His time at São Paulo was defined by an incredible scoring record, as he netted 54 goals in only 67 appearances. By 1986, he had led the Tricolor to capture the Brazilian league title and was awarded the Bola de Ouro.
Soon after, Europe called, and in 1987, Careca moved to Napoli where he would join Bruno Giordano and Diego Maradona to form one of the most lethal attacking partnerships in Italian footballing history. Led by this "Ma-Gi-Ca" trio, Napoli played inspired football over the next several seasons. Napoli's annual matches against Milan produced many of Serie A's most memorable moments, including emotional 3-0 victories for both clubs in their respective home stadia during the 1989/1990 campaign. With the "Ma-Gi-Ca" trio terrorizing defenders in both domestic and continental competition, Napoli would win the UEFA Cup in 1989 before pipping rivals Milan for Serie A in 1990.
For fans of Serie A, the Napoli sides of the late 1980's are among the country's greatest ever teams. Coupling fluid team play with moments of genuine individual brilliance, they played awe-inspiring football and won matches with unquestioned skill and panache. Careca was the perfect striker for such a side, and would enjoy double digit goal tallies each season he spent with the Gli Azzurri. Having spent six seasons in Italy, Careca would finally depart in 1993. He finished his career with a stint in the Japanese J League followed by one year with Santos and São José, respectively.  
Careca produced many fantastic performances for the Seleção, and won the silver boot in the 1986 World Cup after scoring five goals in six matches. It is his missing of the 1982 World Cup, however, that is often discussed by fans and pundits alike when pondering Careca's career with the Seleção. Famed Brazilian writer Machado de Assis once wrote that "It's the occasion that makes the revolution." It speaks to a universal truth of life and football – that timing often conquers all. An injury to Careca only three days before the start of the 1982 World Cup may have been the only thing that stood in the way of crowing one of the greatest football teams the world has ever seen, as the fluid, well-integrated Careca was replaced with the ill-fitting Serginho at striker. For many journalists and fans, the injury of Careca and the subsequent replacement with Serginho was one of the key pitfalls behind Brazil's loss in 1982.
Like many of the great Brazilians who played during the 1980s, perhaps Careca's finest moment for the Seleção came in a defeat. In the 17th minute of Brazil's match against France in the 1986 World Cup, Careca found himself on the end of a fantastic display of Brazilian passing, as a series of one touch passes between Junior and Müller resulted in the ball sliding across the top of the 18 yard box to an unmarked Careca. He was never one to let a good chance to go to waste, and slotted the ball past the hopeless French goalkeeper Joel Bats with ease. An expression of total football, footage of the goal is often filed away as a reminder of the beauty of the Brazilian style during the 1982 and 1986 World Cups.
– Chase Haislip

1989-1998: Return to Prominence

Following the crushing disappointment of the 1980s, the Brazilian national team rebounded with one of the most successful 15 year periods in the history of the game.  At the heart of this success was the stretch from 1989 to 1998, which saw the Seleção win two Copa America titles, the inaugural Confederations Cup title, and most importantly, the 1994 World Cup. On an individual basis, members of the team also won the first ever Ballon d'Or won by a Brazilian player, three FIFA World Player of the Year awards, and one UEFA Club Footballer of the Year award. Controversy before the start of the 1998 World Cup Final stood in the way of Brazil winning three straight World Cups from 1994-2002. At the heart of this decade were players such as Romário and Bebeto, who danced high up the pitch in one of the world's deadliest strike partnerships.  Legends of the game filled in the ranks year after year, with players such as Cafu, Dunga, Jorginho, and Márcio Santos wearing the shirt during this decade. The success of the squad was also inspirational, giving debuts to future world class players including Ronaldo, Rivaldo, Roberto Carlos, Zé Roberto, and Dida. These players would carry the torch of the 1990s into the new millennium.
José Roberto Gama de Oliveira aka Bebeto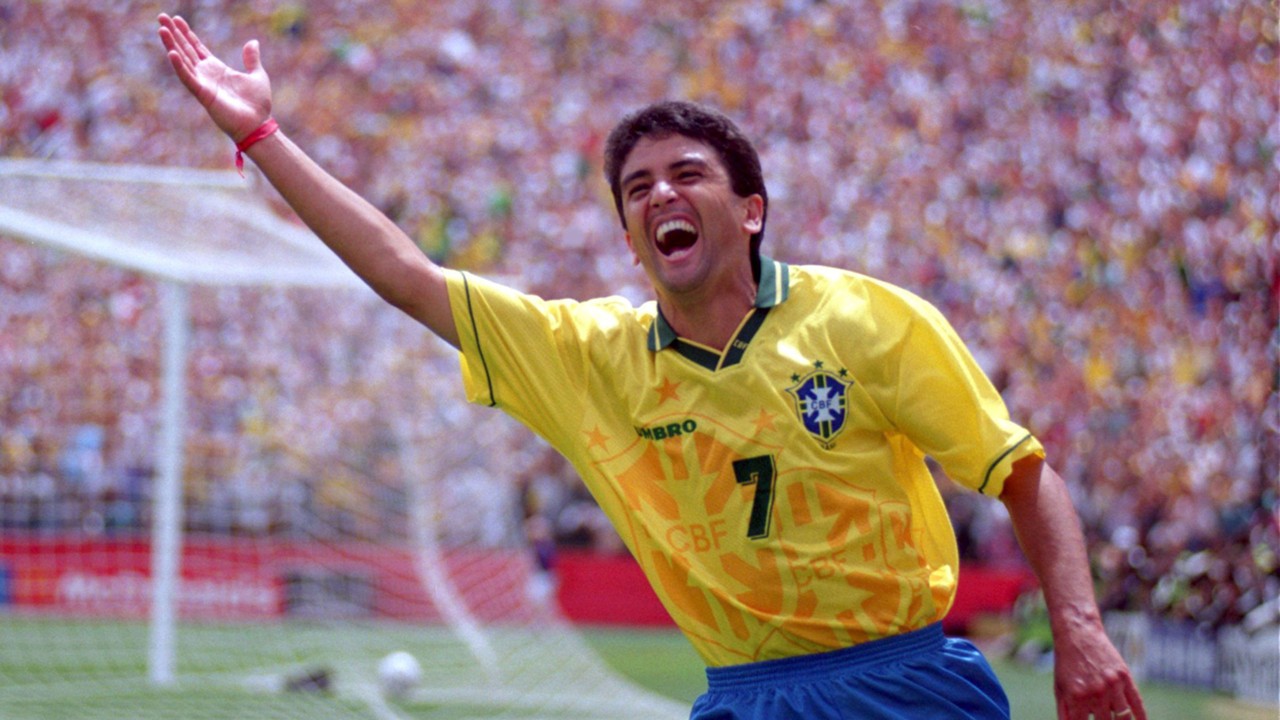 During the late 1980s and early 1990s, Brazil struck gold with one of football's greatest ever  striker partnerships – Romário and Bebeto. The two scored 94 goals in 145 caps for the Seleção, and struck fear in defenders around the globe. While Romário is recognized and celebrated as a transcendent player, Bebeto was a world class striker in his own right, and his talents helped power the success of the Brazilian National Team through the 1980s and 1990s.
Born in 1964 in Salvador, Bebeto started his career with local club and youth system powerhouse Vitória.  His skill on the ball and eye for goal caught the admiration of managers throughout Brazil, and in 1983, he traveled down the coast to join Flamengo. Bebeto had a knack for popping up in the right place at the right time. While he was a gifted passer and playmaker, he was even better at scoring.  Teammates and competitors alike commented on the ease with which he found the back of the net – time after time scoring difficult volleys with the same simplicity and grace as an unassuming tap in.  Bebeto won the Brazilian League title with Flamengo in 1987, scoring the goal in the final match that secured them the trophy.
Bebeto made his debut for the Seleção in 1985, but it wasn't until 1989 that he really broke through for the national team.  Bebeto led the front lines for a Brazilian team that dominated the 1989 Copa America tournament. Brazil lifted the trophy with Bebeto as the tournament's top scorer, netting six goals. With Romário tied joint-4th with 3 goals, Brazil foreshadowed the attacking dominance the two would showcase to the world in the 1994 World Cup.
Following the triumph of the 1989 Copa America, Bebeto transferred across town to rivals Vasco da Gama, where he saw continued to see success.  After finishing as the top scorer in the Brazilian league in 1992, Bebeto completed a transfer to Spain, and joined a small club in Deportivo La Coruña.  The season before Bebeto joined, Deportivo narrowly avoided relegation, finishing 17th in La Liga.  With Bebeto leading the line, Deportivo finished 3rd, 2nd, 2nd, and 9th in successive seasons, and their overall success included winning the Copa del Rey, the Supercopa de España, and falling one goal short of winning La Liga in 1994.  Bebeto became the face of the "Súper Dépor" era, and by the time he left in 1996, he had scored 86 goals in 131 appearances.  To this day, Bebeto remains the top scorer in the club's history.
Though Bebeto became a drifter at the club level post 1996, he remained a vital and dangerous player every time he put on the Brazil shirt.  At age 30 and 34, Bebeto started every single match for Brazil in both the 1994 and 1998 World Cups, respectively.  His partnership with Romário saw the pair score 8 goals in the 1994 World Cup, and their skill and chemistry led Brazil to be recognized as the "Most Entertaining Team" in the tournament in addition to capturing the Jules Rimet trophy. Later, in 1998, Bebeto provided mentorship and guidance to the next generation, scoring 3 goals of his own and passing the torch to Ronaldo and Rivaldo.
Bebeto's greatest moment can be collectively described as the 1994 World Cup, where his partnership with Romário left opponents gasping in their wake.  Bebeto scored 3 goals in the tournament, including the all-important goal in Brazil's 1-0 victory over the USA.
His trademark moment, however, must be his celebration after scoring the second goal against the Netherlands. Collecting a long header off a clearance, Bebeto sprinted onto the ball, beat his defender and calmly took a touch around the onrushing keeper before passing the ball into the back of the net.  Bebeto then ran towards the sidelines, cradling his arms back and forth to celebrate the birth of his son, Mattheus. Bebeto was joined by Mazinho and Romário, and together the three rocked their arms back and forth, the smiles and joy on their faces representative of the beautiful samba style of play they perfected on route to their fourth World Cup title.
-Matthew Hintze
1999-2008: Boom and Bust

Full of peaks and valleys, 1999-2008 would be a roller coaster ride for fans of the Brazilian national team. The peaks included the 2002 World Cup campaign that was full of memorable moments such as Ronaldinho's quarterfinal free kick goal against England and Ronaldo cementing his place among the greatest strikers in history with his tournament-leading eight goals. Over the course of the decade, Brazil also captured three Copa America titles and a Confederations Cup title. Although there was much to initially celebrate, the valleys began at the 2006 World Cup, when a much-hyped dream team of Brazilian stars failed to live up to their unbeatable expectations. A pattern of firing and rehiring managers began in the wake of the 2006 World Cup, and would serve as the building blocks for disappointment in the next decade.
Adriano Leite Ribeiro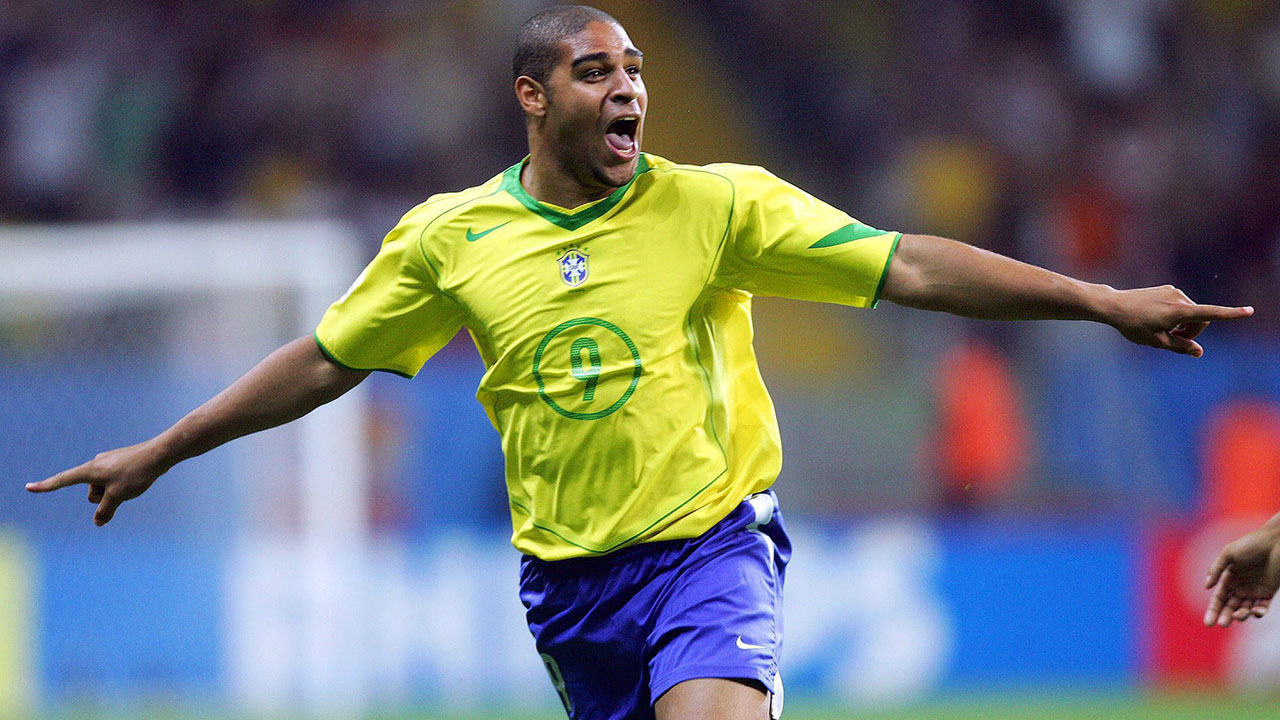 A shooting star is a wondrous event to witness. When entering earth's atmosphere, the meteor will shine brightly and leave a beautiful light trail. If you blink just once though, you might completely miss it. Adriano was one such shooting star.
Adriano was one of Brazil's most promising talents. Well-rounded, versatile, and  physically imposing, his thirst for goal combined with his power and technical ability made him an all around threat. These attributes combined with his strength in the air, his excellent ball control, and his dribbling prowess made him a nightmare for opposition defenders. He had all the tools to be the perfect striker.
Adriano began his club career at Flamengo in 1999 as part of the youth squad. He earned promotion to the senior squad the following year and accumulated 10 goals in 24 appearances for the senior team. Although he had recently penned a two year deal with Flamengo, in the summer of 2001 Italian giants Inter Milan came calling and Adriano made his way to the San Siro.
With playing time scarce, Adriano joined Fiorentina on loan for the rest of the season and had mild success, scoring 6 goals in 15 appearances. In the summer of 2002 he moved onto Parma where he exploded, scoring 23 goals in 37 appearances.
Inter Milan recalled Adriano in January 2004 and the Brazilian rejoined the club as their new starting striker. For the rest of the season Adriano dominated Serie A, scoring 12 goals in Inter's remaining matches. Adriano's form in the following campaign was blistering, and he scored over 40 goals between July 2004 and June 2005. He earned the nickname L'Imperatore de Milano, or the Emperor of Milan, and as emperor he contributed to Inter Milan's four straight league titles between 2006 and 2009.
On the international stage, Adriano was seen as the heir to Ronaldo. His breakout performance for Brazil came during the 2003 Confederations Cup, where he replaced Ronaldo who did not participate. Although the Seleção were eliminated in the group stage, he made an impression. He was selected to the team for the 2004 Copa America in Peru, where he led Brazil to the title and also won the golden boot as the tournament's top scorer with 7 goals. In 2005, he again had a strong showing for Brazil at the Confederations Cup, leading the Seleção to the title and winning another golden boot.
In 2006, the stage was set for another Brazilian World Cup victory and possibly another golden boot for Adriano, but instead the world witnessed Brazil come up short (see Decade of Dysfunction). Adriano managed only 2 goals and 5 shots on goal throughout the tournament – a surprise for anyone who had been following him at Inter. His form not only dipped for the national team but also at Inter Milan. He seemingly lost all discipline, he lost fitness, and was seen too often with a drink at hand.
At the beginning of the 2004-05 season, Adriano received the devastating news that his father, only 44 years of age, had passed away. Adriano took the news very hard. His Inter Milan teammate, Javier Zanetti, was present when Adriano received the tragic news. "Adriano had a father who looked after him a lot and kept him in line. But at the start of the season, something unimaginable happened," Zanetti told InterNews in an interview, "He got a call from Brazil and was told his father had died. "I saw him cry. He threw the phone down and started shouting it was impossible. From that day on, Moratti and I decided to take him in like a brother and protect him."
For a short period of time, Adriano played like a man possessed. He hit the best form of his career and dedicated goal after goal to his late father, but over time the devastation seemed to catch up to him. He fell into a deep depression and he turned to drinking and partying.
Adriano's short career gives us a glimpse at what could have been. 241 club appearances and 107 goals. 48 senior national team appearances and 27 goals. He was one of the most physically gifted strikers in the world, and when on his game was one of the most unstoppable attacking players Serie A has ever seen. Though his time at the top of the footballing world was short lived, for those seated at the San Siro's Curva Nord, he will always be the Emperor.
-Jimmy Torrejon
2009-2017: The Arid Years

The failure of the 2006 World Cup squad to deliver on expectations led to a series of reactionary managerial hires that hampered the Seleção's ability to find consistency between 2009 and 2016. Having been knocked out of the 2010 World Cup at the quarterfinal stage, Brazil headed into the 2014 World Cup on home soil with great expectation. The tournament ended in tragedy, however, as Brazil were defeated 7-1 by Germany in the semi-final, one of the worst defeats by any nation in World Cup history. The bright spot of the decade arrived in the summer of 2016, when a Neymar-led Brazil captured Olympic gold in an emotional final at the Maracana. A recent resurgence under new manager Tite has pushed Brazil back where they belong: among the favorites for the 2018 World Cup.

Alexandre Rodrigues da Silva aka Alexandre Pato
In November 2006, Brazil got its first taste of 16 year old Alexandre Rodrigues da Silva, more commonly known as Alexandre Pato, as he scored his first professional goal within a minute of his first appearance for Brazilian club Internacional. Pato contributed another two assists in a 4-1 rout over Palmeiras. Pato's excellence became apparent over the next season as he scored 12 goals in his first full season for Internacional, earning him a transfer to Italian giants AC Milan in the summer of 2007 following their Champions League win over Liverpool.
Many Brazilian players struggle to adapt to life in Europe following their transfer. Over the years young talents from Brazil, such as Denilson and Kerlon, have struggled to establish themselves as consistent starters and have been forced to return to their homeland. Pato certainly does not fit into this category. From the ages of 18 to 22, Pato managed to score 50 goals in 102 appearances in an AC Milan squad consisting of football greats Paolo Maldini, Gennaro Gattuso, Clarence Seedorf, and Alessandro Nesta, as well as Brazilian legends Ronaldinho, Kaka, and Dida. His success as Milan's striker earned him the 2009 Golden Boy award and his goals helped Milan win its most recent Serie A title in 2010-2011.
Unfortunately for Pato, he started to pick up muscular injuries in his thigh following the 2011 season, which persisted for years. Despite his success in Europe, fans of Brazil were never fully exposed to his brilliance. If Pato had managed to stay healthy throughout his career, who knows what impact he could have had for Brazil over the course of the past several years, particularly at the 2014 World Cup. These injuries have plagued his career, but his success as Milan's striker cannot be forgotten. He had a lethal combination of quickness and creativity that allowed him to play a number of positions across the front line and left defenders across Europe bemused.
Pato exhibited his physical ability on several occasions in his early 20's in Italy, although his goal against Barcelona in 2011 truly showed his ability and quickness on the ball. Following the kickoff, Pato received the ball in the midfield, flicked it past Argentine Javier Mascherano, and sped past the remaining Barcelona backline before slotting home the fastest Champions League in history past Victor Valdes. Sadly, Pato's goal within 24 seconds is one of the last times we witnessed Pato's brilliance. It is hard to imagine what Pato's ceiling could have been if he remained healthy throughout his career, as he established himself as a 1 in 2 goalscorer at just the age of 20. It's safe to say, however, he would have been one of the top strikers in Europe.
-Quinn Haislip
Editors Note: A few corrections have been made since the original publishing of this piece. First, Vava was not a teammate of Amarildo during 1962, as Vava played for Palmeiras at the time and Amarildo played for Botafogo. The original piece stated that Tostao played only a few minutes during the 1966 World Cup. In fact, he played one full match of three, scoring a goal. Adriano's goal scoring record for Brazil was incorrectly stated as 29 goals in 50 matches. It has been corrected to 27 goals in 48 matches.
If you liked this article, be sure to check out Canary and Blue, the Football Purists' new podcast that covers the Brazilian National Team. The podcast covers the past, present, and future of the Seleção, providing analysis, oral histories of Brazil's greatest moments, and discussions of the country's greatest ever players. Our most recent podcast includes a discussion of Pato, Neymar, Dani Alves, and more. Follow us on twitter at @CanaryandBlueFP.